In Italian, Amico means "little friend". Now you can take your love of steam, wherever you go with the
Vapamore MR-75 Amico
. This clever hand held steam cleaner is designed to move with you as you
clean and sanitize your entire home or office using Vapamore's 100% chemical-free cleaning system.
The brilliantly engineered portable steam cleaner
includes the largest array of accessories and attachments on the market
, more than any other hand held steam cleaner available. Versatility and power are realized in a machine that was specifically created for high performance cleaning on the move.
Built for a lifetime of use, the MR-75 Amico is backed by superior customer service and the exclusive Vapamore
Lifetime Warranty
.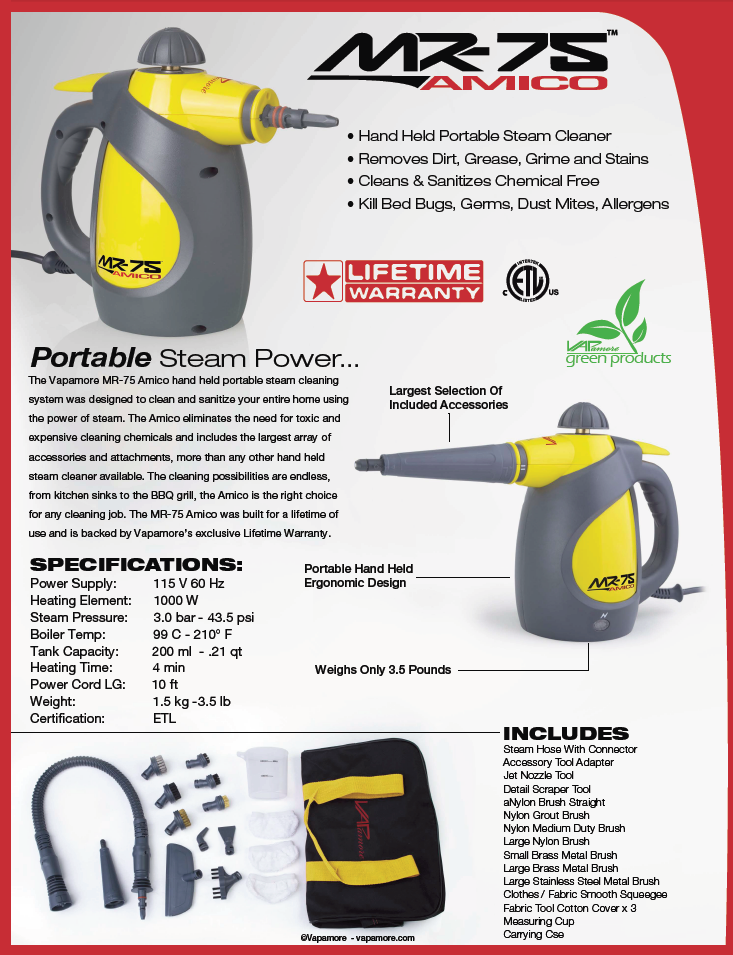 USING THE AMICO STEAM CLEANER FOR KILLING BEDBUGS
The Vapamore MR-75 Amico produces steam with an output temperature between 200 - 210 degrees. Pests such as bedbugs, dust mites and other allergens along with their eggs are killed on contact. Using steam is an extremely effective method for killing bedbug and their eggs. as well as bacteria and viruses without leaving any harmful chemical residue behind.
The tools supplied with the Vapamore MR-75 Amico allow you to treat all areas where these pests can hide such as bedding, sofas, furniture, pillows, carpet, cracks and crevices that are ideal hiding places for pests.
The clothes / fabric tool with the cotton cover is ideal for treating bedding, furniture, pillows, and carpet areas around bed posts and base boards. Start by installing the supplied cotton cover on the clothes - fabric / smooth surface tool. Apply light consistent pressure and slowly pass it along the surface (1" per second) to insure the area being treated has a chance to come to full temperature killing pests and their eggs.