The Juki TL-2200QVP Quilt Virtuoso Pro Long Arm Quilter is the newest Long Arm Quilting Machine on the market and from Juki in Japan and the only one on the market with top and bobbin thread trimmers. Quilters around the world have been waiting for a specialized machine like the TL-2200QVP. Discover the impressive 18 inches of horizontal throat space between the arm of the machine and the needle.
Even more impressive is the 10 inch height, unlike most long arm quilting machines which only provide an 8 inch height or less. All this amazing capability is mounted on a deluxe 10ft Quilting Frame.
By hand or software driven the Juki TL-2200QVP is a pleasure to drive for it's smooth and solid stitching over layered fabric and paddings.
It has 18x10" or 180 square inches of arm space, compared to 118" for Tin Lizzie 18x6", 144" for Handiquilter Avante 18x8", and 144" for Tin Lizzie 24x6" heads. That's 25% more arm space more than 18x8 or 24x6 arms.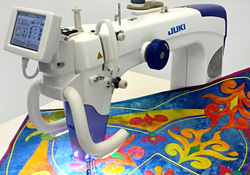 Sit Down 18x10" Arm Free Motion Quilting Model
SAME machine as the standup model, so the machine can be put on the frame in the future
18" deep X 10" high
Built in bobbin winder
Auxiliary hand wheel
THREAD TRIMMER!
Semi Dry head technology
Direct drive servo motor
Metal gear timed
Auto tie off feature
Basting stitch And MORE
Juki is the only sit down longarm quilter with automatic thread trimmers.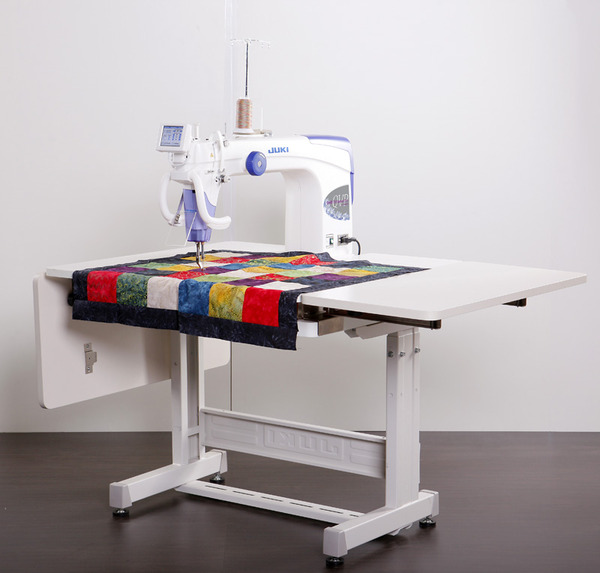 Up to 50" Wide Table (with optional leafs) on adjustable height metal stand with wood top and leaf for left or right side, 30" overall depth.
Features of the Juki TL-2200QVP-S Sit Down Quilting Machine with Table and Stand":
Internal Direct Drive System.
Greater Visibility with 10" high and 18" throat space for any quilt size.
Dual Directional LED lighting LCD touchscreen
Variable speed control with a maximum sewing speed of 2200 stitches per minute
Customizable speed control with the ability to save your preferred settings
Programmable needle up / down positions
Programmable upper and lower thread cutter with auto set thread lock
Electronic foot control with quick thread cutting
Built In bobbin winder with independent motor
Large M class bobbin
Built in thread stand
Quilting Foot compatible with 1/4 inch long arm rulers
Large quilting table with adjustable height and optional extensions
Table is 35.375" x 33.625" Made in Japan by Juki.


Specifications


-Sewing speed: Max. 2,200SPM Stitches Per Minuet

-Needle bar stroke: 35mm

-Lift of presser foot: 5.5mm

-Needle: GB, Organ or Schmetz 134R and equivalents.

-Lubricating oil: New Defrix Oil No.1, or any clear - sewing machine oil.

-Dimensions of sewing machine: 22.2W x 46.0H x 73.0L (cm)

-Weight of sewing machine: 26 kg. 57 Pounds

-Rated power supply / Power consumption: 120V/140W 60Hz

Stand is knocked down, un-assembled, ready to assemble.


American-Sewing.com
129 Route 31 N. Pennington, NJ 08534
Phone: 609-429-0540
Over 45 Years of Experience